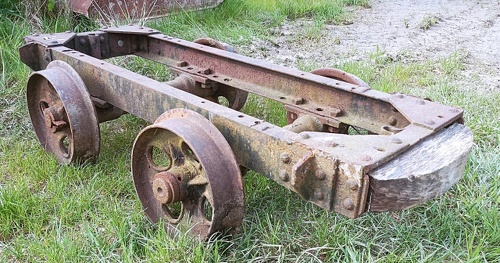 DE - Flachwagen aus ehemaligen Grubenhunt mit Holz-Puffern, 600mm Spurweite, aus dem Sägewerk Amann Hirschau wurde 22.04.1998 in die Sammlung übernommen.

CZ - Plochý důlní vozik s dřevěnými nárazníky s rozchodem kol 600 mm. Vozik byl použiván na pile Amann Hirschau.
Vozik je ve sbírce od 22.04.1998.

UK - Flat car from former Grubenhunt with wooden buffers, 600mm gauge, from the sawmill Amann Hirschau was taken 22.04.1998 into the collection.